Microwave Path Surveys & Design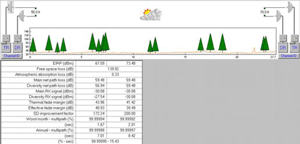 TCS Consultants, Inc. is a leader in microwave path surveys and design. Using custom designed cloud based software to import to and export from Pathloss 5.0 (and the older Pathloss 4.0 if desired), TCS eliminates the possibilities of typos from repetitive report insertions. This custom software also allows for real-time point elevation validation, FCC and FAA data comparison, location data integration, on-the-fly topographical map insertion with markers & labels, and many other significant report enhancement. And while the accuracy and precision are the main objective, the software automation cuts report creation time by 75%.

TCS Consultants, Inc. has been performing microwave path surveys since before laser range-finders and GPS existed. While these tools have made the job much easier, the knowledge of performing these services without these technologies has proven invaluable at times or locations where these products fail (lasers do not work in heavy mist / fog / mountain-top clouds) and GPS units are subject to multi-path interference. It should also be noted that the accuracy of laser ranging units vary significantly. When your paying for a services that is critical to your reputation, we don't believe 'counting joints' and guessing at location and antenna sizes cuts it. While checking tree heights may not be problematic, performing tower elevation audits can be costly if the errors exceed a couple of feet.

TCS is unique in having created some of the first available commercial software for designing microwave systems and unique in that it also provided full services tower crews to both install and maintain these systems. TCS has also helped some of the leading technical engineers create and implement new microwave design standards.

While TCS no longer provides commercially available software or installation crews, the education and experience of those services provided an unprecedented knowledge that could be gained from no other source. TCS has been designing microwave systems since before inception in 1984.
Microwave Path Survey & Design Process
Acquire coordinates and proposed design.
Create preliminary profiles

NED 1/3-ARC TERRAIN DATA
Satellite site validation
Cross check site data with FCC ASR (if applicable)
Coordinate site access and availability
Research tree heights for the general area for preliminary antenna heights
Determine preliminary antenna sizes based on proposed equipment
Note preliminary information to customer.

Perform physical path and site survey

Site Information

Acquire accurate latitude and longitude of site using DGPS
Measure tower data using surveyors transit & laser measuring devices
Acquire digital photographs

General Site Pictures
Waveguide Entry Ports
Existing Waveguide Mounting
Posted Site Data / Signage
Overall Structure Pictures
Tower Appurtenances
Near Field Site / Path Pictures

Determine Near Field Obstructions
Any pertinent data that would affect installation

Road Type / Condition
Access Type
Limitations
Size of Communications Building
Distance from Building to Antenna Structure

Path Information

Acquire digital pictures of azimuth (if not obstructed)
Traverse path using GPS receiver and integrated maps
Note pertinent obstruction and terrain data
Measure obstructions using transit or laser clinometer
Acquire digital pictures of pertinent obstructions

Microwave Path Design

Acquire desired path design criteria from customer
Create path profile from measured data
Determine antenna heights on structures
Determine reflection points and phase antennas
Adjust ACLs based on structure appurtenances

Compile Customer Report

General Report

Elevation grid map of system
Hwy map and atlas of the system
General scope of work
Path antenna heights, tx lines, and frequency summary
Site DGPS coordinates, tower heights, and ASR summary
Path Equipment hardware and radio summary
Method of survey
Path design criteria
Path and site data overview
Conclusions and contact information
Glossary of terms and acronyms

Site Data

Google Geomap w/ markers
Topographica Map w/ markers
Site description
Geodetic Coordinates, elevation, method
FCC ASR data
FAA TowAIR data
Access Information
Equipment shelter information
Antenna structure information
Proposed antenna information
Structural elevation drawing
Birdseye drawing (if applicable)
Area plat of communcations compound (if applicable)
Inside building drawings for existing & proposed equipment (if applicable)
Site photographs

Path Data

Path profile
Detailed terrain data information
Path calculations and reliability worksheets
Antenna clearance report
Antenna orientation report
Path reflection phase calculations

Create soft-copy report
Provide download URL for customer to include:

Microwave path survey report
Reduced size report - Adobe compressed
PDF path data sheets (also included in report)
CSV pathloss file for quick spreadsheet use
Pathloss 5.0 (or 4.0) files
Tower elevation drawings (also included in report)

Send Invoice
Note: There are no additional costs associated with report revisions, equipment mods, or design alterations that don't require additional trips to the field (new sites, reroutes, or sites moving considerable distances). This is a significant cost savings when the physical path survey alters the original assumptions of the customer's preliminary design (which is almost always the case).