Wireless RF & Microwave Design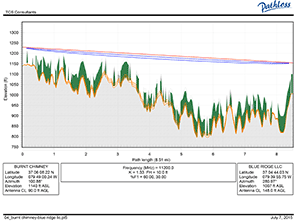 TCS Consultants, Inc. provides wireless consultation services specializing in microwave design and 2-way coverage prediction. TCS has been performing these services for over 30 years and assists manufacturers, suppliers, cellular, energy & gas, government, and military entities in getting the most out of their resources and budgets.

Established in 1984 under the name Technical Communications Software and then in 1995 under TCS Consultants, Inc. - TCS has been performing these services for more than three decades.

TCS has been performing microwave feasibility studies, physical path surveys, optimization design, licensing, and implementation for as long as it's been in business. Using state-of-the-art equipment, software, and automated web-service interconnects - TCS can quickly and accurately design single hop internet interconnects to cross country, multiple OC3 long-haul microwave systems. Using integrated custom design software and databases developed in-house - TCS provides faster turn-around, more accurate results, at less cost to it's customers.

TCS provides radio frequency coverage prediction analysis as one of it's primary services. Providing reliable and accurate coverage prediction from decades of experience in the 2-way and telemetry industry. TCS has a proven track-record of providing both measurable success in coverage prediction and quick response in providing these services and products to our customers. Typical results are completed and delivered in 1 business day via electronic delivery.

From creating brochures, bids, or presentations to preliminary feasibility studies of proposed 2-way or telemetry system to analyzing potential anomalies in existing systems - TCS provides these services with quick and professional turn-around.
A Brief History of TCS
TCS Consultants, Inc. has been performing wireless consultation services for over 30 years. Starting as technical communications software developers, (TCS), created some of the first available wireless design software in the industry. This included microwave path design, height above average terrain, USGS map-cross software (before there were digital maps available), a 1st to 5th order inter-modulation calculator, and mobile coverage analysis used for VHF, UHF, conventional and trunked radio systems, and SCADA / Telemetry applications.

In the late 80s, TCS Consultants, Inc. moved from designing software to actually performing the services that our software provided. TCS was being contracted to provide a number of wireless services but specialized in microwave path surveys, FCC licensing assistance, training, and providing radio coverage prediction for 2-way systems and telemetry.

During the 90s, TCS officially terminated it's commercially available software products and focused on both consulting of wireless system designs using CTE's Pathloss software and began it's venture into actually installing and maintaining these systems. From the 90s to 2008, TCS installed and maintained countless microwave, 2-way radio, structures, lighting, telemetry and their associated antenna and hardware systems. While TCS did terminate it's commercial software division, those developers continued to work and moved to creating support systems for the design and implementation of the company. From creating digital support documents for customers to custom interconnected databases for internal and external use. The custom software is still one of our greatest assets.

Today, TCS Consultants, Inc. has minimized it's footprint and has moved back closer to it's roots of microwave path design and coverage prediction. The company did not feel that the potential risks involved in physical elevated services was appropriate.

TCS Consultants, Inc. prides itself on providing the fastest service possible while maintaining the highest standards of accuracy and precision. This is done through decades of research into state-of-the-art equipment, building on our rich foundation of custom in-house developed software, and adapting new technologies, resources and time-reducing advancements to our design and implementations procedures.